PLEASE NOTE: Due to the severe weather, we have cancelled the final day of the Christmas Sale. We

will not

be open Sunday, Dec. 10th, 2017.
 Our sincere apologies for any inconveniences this may cause. Don't forget, if you have a specific item you are looking for you can email us any time at grandpashorsestable@gmail.com 


      What's in Store?  
There is something for every collector at Grandpa's Horse Stable.  Artfully displayed amongst the original horse harness, collars, and saddles you will find an ever changing collection of:
~Refinished Antique furniture
~Antique and collectible china
~Crystal, silver & glass
~Vintage Kitchenware
~Framed original and print art
~Antique framed mirrors
~Hand-crafted benches from 100 year old wood
~Vintage toys
~Jewelry
~Garden and home décor
~Hand thrown pottery
~Sports memorabilia
~Royalty memorabilia
~Books
~Ruby, amber, purple amethyst, black amethsyt glass
~Pink, blue green & yellow depression glass, stained glass
~Vintage toboggans and sleds
~Vintage linens
And who knows what!
Visit our Gallery for a selection of some of the items in Grandpa's Horse Stable.
Make a visit and relax in a beautiful farm setting.
Enjoy a complimentary coffee on the patio outside the quaint Sugar Shack serving home-made tarts, cookies, squares and pies, local honey and Ian's irresistible old-fashioned home-made fudge. Fun for the kids too!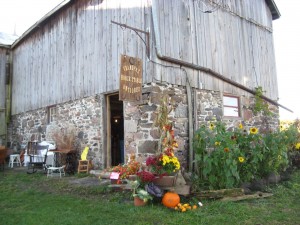 ___________________________________________________
343 Horseshoe Valley Road West
Coulson, Ontario